In today's hectic world, safety has become an absolute priority, especially when it comes to the environments in which we live and work. The statistics on domestic accidents and injuries caused by accidental slips, especially on slippery surfaces, are alarming. Sicer has chosen to research an innovative solution that can revolutionize the concept of anti-slip ceramic tiles: SILKY ROCK SURFACES.
In this article, we will explore the importance of slip-resistant ceramic surfaces, their technical characteristics and the regulations they must adhere to. We will discover the new proposal, SILKY ROCK SURFACES, an innovative anti-slip finish that not only ensures secure floorings but also boasts a striking aesthetic impact.
What is an anti-slip surface?
A slip-resistant surface is designed to prevent slips and falls by providing reliable traction even in humid or dirty conditions. Essential technical features of a slip-resistant floor include a structured surface, an appropriate coefficient of friction and higher skid resistance compared to traditional smooth surfaces.
Anti-slip flooring for indoor surfaces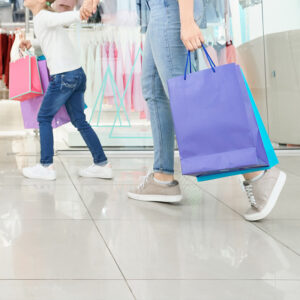 There are various indoor areas, both residential and public, where the use of slip-resistant surfaces is advisable.
Domestic indoor areas: entryways, staircases, bathrooms and kitchens. These are areas in the house where floor grip is crucial to prevent household accidents.
Public indoor facilities: shopping malls, supermarkets, gyms, restaurant kitchens, hospitals, clinics and medical offices. In high-traffic environments, ensuring safe floors is essential for the health and well-being of visitors and staff.
Anti-slip flooring for outdoor surfaces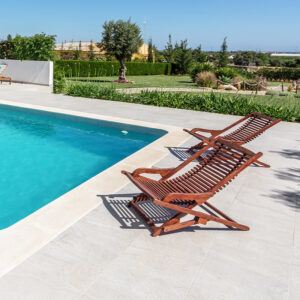 Outdoor flooring is particularly prone to slipperiness, as it is exposed to weather elements such as rain, snow and ice. Therefore, it is essential to select materials that offer stability during transit.
Here are some examples of areas where anti-slip surfaces are needed:
Private outdoor surfaces: garden pathways, terraces, balconies, pool edges and any areas exposed to the elements.
Public outdoor surfaces: public pool edges, outdoor parking lots, warehouses, outdoor recreational areas and pedestrian walkways.
Certifications for anti-slip floors
Anti-slip floors must comply with specific safety regulations and standards. These norms vary from country to country, but, in general, they establish minimum performance requirements for slip-resistant floors. The certifications determine slipperiness and friction coefficient values for tiles. Two well-known certifications are DIN 51130 and DIN 51097.
DIN 51130:2014 Certification
DIN 51130:2014 sets the standards and characteristics that anti-slip floors must possess for pedestrian traffic with footwear. The risk level of slipping (indicated by the letter R) increases with the incline of the floor.
R9: indicates normal adherence with an incline between 3° and 10°. Suitable for entrance areas, exterior access stairs, shops, medical offices, cafeterias, restaurants, laboratories, laundries and places with water presence.
R10: indicates medium adherence with an incline between 10° and 19°. Suitable for bathrooms, showers, small commercial kitchens and garages.
R11: indicates high adherence with an incline between 19° and 27°. Ideal for food production areas, medium-sized kitchens and workplaces with significant water presence.
R12: indicates strong adherence with an incline between 27° and 35°. Suitable for environments with dairy or slippery substances production, large restaurant kitchens and parking lots.
R13: indicates very strong adherence with an incline greater than 35°. Suitable for food production environments.
DIN 51097:1992 Certification
DIN 51097:1997 certification specifies characteristics for slip-resistant and antitrauma floors where barefoot pedestrian traffic occurs with water presence. The evaluation groups are as follows:
Group A: medium adherence, suitable for changing rooms or barefoot access areas.
Group B: high adherence, appropriate for showers and pool edges.
Group C: strong adherence, recommended for immersed stairs and sloping pool edges.
Apart from these norms, there is also UNI EN 14231:2004, which establishes the degree of slip resistance for natural stone flooring in any environment.
Compliance with these regulations and certifications ensures the safety and quality of anti-slip floors, providing peace of mind for both domestic and public indoor and outdoor environments.
Sicer's new anti-slip formula: SILKY ROCK SURFACES
This is where Sicer's SILKY ROCK SURFACES comes into play. This innovative product offers a cutting-edge solution for anti-slip surfaces while adhering to all the above-mentioned regulations. Through extensive research, Sicer's laboratories have created an exclusive, high-quality ceramic finish that combines an extremely soft, pleasant-to-touch and anti-glare surface with excellent slip resistance.
The formula is customizable based on the customer's needs, calibrated and modulated to achieve an ANTI-SLIP finish from R9 to R12. The new SRK range can be applied both airless and with new application technologies, providing adaptable solutions for any ceramic production environment.
The result is surfaces that are:
Smooth as silk and pleasant to the touch
Anti-glare
Anti-slip (R9-R12)
Transparent with a wide color spectrum
Easy to clean
SILKY ROCK SURFACES also passes the PENDULUM and MAZAUD tests. Mazaud test is significant for the French market, measuring the wear resistance of ceramic tiles according to Cahier CSTB 3778_V4 10/2020 Annexe 10. The test involves a steel wheel with a weight of 60 kg making 22,320 rotations (approximately 14 km) on a 30×30 tile placed on a rotating support. The test is considered successful when no wear of the tile surface is evident after rolling, obtaining U4 in the French UPEC classification.
Sicer: Safety without Compromises
Choosing SILKY ROCK SURFACES means investing in safety and design, creating welcoming, functional environments free of risks. Sicer is committed to providing innovative solutions that improve the quality of life and promote a safer way of living and working.
Once again, Sicer demonstrates its leadership in the industry, offering not only high-quality products but also excellent customer support. The combination of high technical standards in products, focus on innovation and aesthetic research and personalized assistance makes Sicer the ideal partner for major ceramic tile manufacturers worldwide.