Ceramics is an ancient art that has evolved over centuries, embracing new technologies and decoration techniques. Among the various innovations that have profoundly transformed the ceramics industry, digital inks hold a prominent position. Where ceramic printing was once limited to traditional techniques such as screen printing and offset printing, digital inks have opened doors to a universe of creative possibilities. They have revolutionized the ceramic sector by transforming smooth surfaces into detailed and personalized works of art.
In this article, we will explore the different types of inks and colors for ceramics, focusing our attention on digital inks. We will discover what they are, how they work and how they differ from other ink variants available on the market, ushering in a new era of ceramic design. We will see the technical characteristics of digital inks developed by Sicer laboratories, a historic manufacturer and supplier of raw materials for ceramic companies and a key partner for leading ceramic groups worldwide.
What is a ceramic ink
Ceramic ink is a suspension composed of a liquid part (a mixture of solvents), a solid part (pigment or material) and a dispersing component. The ceramic pigment consists of metallic oxides and other inorganic compounds that give the ink desired properties such as color, opacity and thermal stability. The dispersing component is responsible for maintaining the distribution of submicron solid particles as homogeneous as possible within the suspension, ensuring excellent adhesion of the ink to the ceramic surface during the firing process. Solvents are used to dilute the ink, facilitate its application and promote drying.
During firing, ceramic inks undergo a chemical transformation in which the solvent mixture burns, leaving the ceramic pigment permanently fixed on the surface of the ceramic object. This process gives ceramic ink remarkable resistance to high temperatures and long-term durability, making it ideal for ceramic decoration and customization.
Different types of inks for ceramics
When it comes to ceramic inks, it is important to understand the differences between the various available options. Some of the most common ones include:
Pigment-based inks: these inks are composed of a pigment base, binders and solvents. They are often used for decorating ceramic surfaces and they are known for their heat and light resistance. They are available in a wide range of colors and can be applied using techniques such as screen printing, pad printing or hand painting.
Glaze-based inks: glaze-based inks are obtained by mixing powdered glazes with additives and solvents. These inks are ideal for decorating tiles and ceramic objects and they are applied using screen printing or airbrushing. Once applied, glaze-based inks are fired at high temperatures to fuse with the ceramic surface, creating a glossy and vibrant effect.
Digital inks: digital inks represent one of the latest innovations in the ceramics industry. They are specifically formulated for use with specialized digital printers for ceramics. These inks consist of finely ground pigments suspended in a transparent liquid. Compared to traditional methods, they are directly printed onto ceramics through inkjet printing, allowing for high-resolution image reproduction and incredible detail. Digital inks are designed to withstand the high temperatures of the ceramic firing process.
Introduction of digital printing in ceramics
With the advent of digital ceramic printing, traditional inks have been completely replaced by digital inks characterized by improved printing precision, versatility, and ease of application.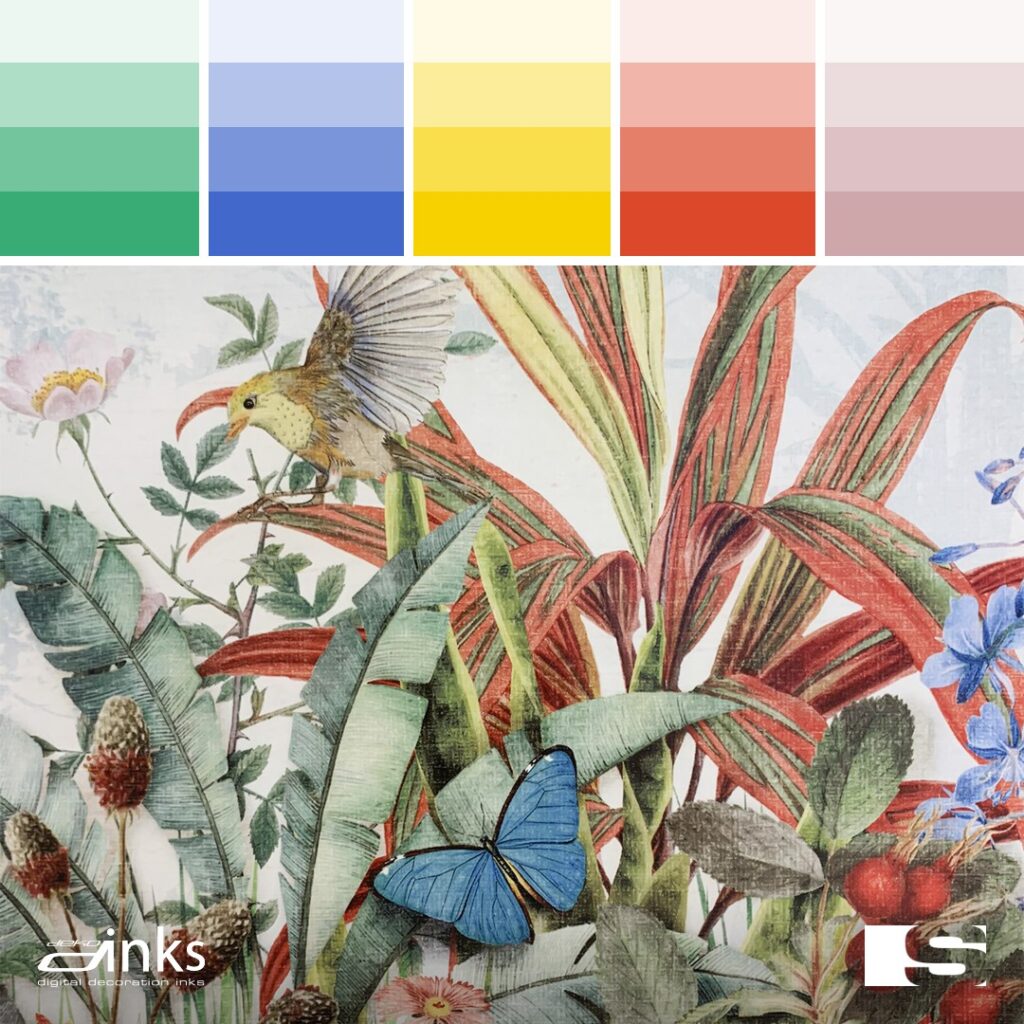 Digital printers use advanced print heads that can apply inks with extreme precision, allowing for the creation of complex and detailed designs. This offers greater flexibility in design and enables high-definition results.
Furthermore, digital inks provide greater versatility in terms of available colors and shades. Thanks to the ability of digital printers to blend inks during the printing process, a wide range of custom colors can be achieved. This allows designers to express their creativity and create unique and original designs.
Another significant difference is the production speed. Digital printers can print quickly and efficiently, reducing production times compared to traditional methods. This allows for increased productivity and can be advantageous for businesses that need to meet rapid and flexible market demands.
Sicer digital inks
Sicer, a historic manufacturer and supplier of raw materials for ceramic companies, is among the world leaders in the production of vitrified products for glazing and decorating ceramic tiles. In recent years, it has stood out for its continuous research into highly technical and aesthetic products, designed and produced at its R&D center in Fiorano Modenese. Let's take a look at the series of digital inks they have developed.
Second generation of .LE LOW EMISSION inks by Sicer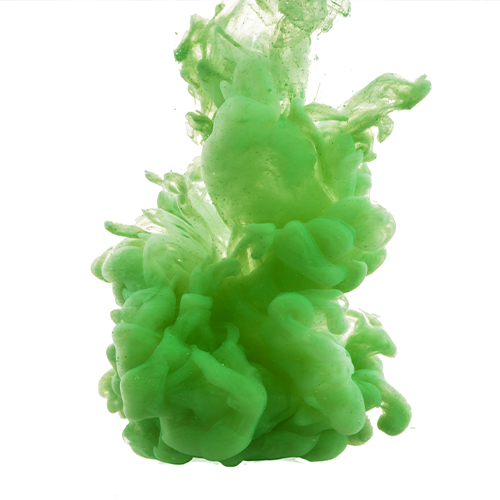 The patented second generation of Sicer's .LE LOW EMISSION inks stands out for its eco-compatibility and innovation. These products are lubricated and characterized by a significant reduction in harmful emissions compared to the best eco-inks currently available on the market. Furthermore, they have been developed to completely eliminate odor-causing components, ensuring an odor-free user experience. The data has been collected by certifying bodies that have analyzed the emissions produced during the ceramic production cycle, highlighting the following improvements:
70% reduction in odor units.
60% reduction in formaldehyde.
50% reduction in aldehydes.
50% reduction in VOCs (volatile organic compounds).
20% – 25% reduction in TOC (total organic carbon).
The range of .LE Low Emission inks consists of "primary" colors that allow for obtaining all the ink variations required by the customer. Starting from the concentrated .LE bases, it is possible to customize each color, creating the ink shade typically used by the customer.
CUSTOM SCD2000 inks by Sicer
The CUSTOM SCD2000 range by Sicer is a collection of inks that offers users the possibility to customize their own optimal four-color combination based on specific result requirements.
CUSTOM SCD2000 series includes various options, such as:
SCD2071 black ink, highly performant for achieving absolute black surfaces.
SCD2062 cyan ink.
Three different shades of honey/yellow inks.
Two red brown/orange inks.
The use of this series allows for a much wider gamut compared to traditional four-color printing, particularly enhancing areas where the standard gamut can sometimes be limited, such as orange, red, yellow and green colors.
Thanks to this range of customizable inks, users can achieve richer and more intense color results, expanding the possibilities for creative expression and obtaining greater fidelity in reproducing desired colors.
CUSTOM SCD2000 series represents an ideal option for professionals who want to push the boundaries of traditional four-color printing and achieve visually stunning results while ensuring high print quality.
Water-based eco-friendly digital glues for ceramics: the green future for Sicer
Environmental consciousness and investments aimed at reducing harmful impacts prove to be key pillars of Sicer's core business and its future. In this historical moment where the world demands companies to take a leading role in adopting virtuous behaviors and creating "eco-friendly" products, Sicer's Digital R&D Lab introduces a new series of three water-based digital glues, completely odorless and with low emissions.
Sustainability and high-performance merge in three different types of WATER BASED glues, two glossy and one matte, representing a new standard in the industry:
Natural glue SCD3001H. This water-based glue contains a binder that increases its adhesive power, improves the spread of grit and helps waterproof the substrate before applying the glass grit. Additionally, it further reduces the emission of volatile organic compounds (VOCs) into the atmosphere.
Natural glue SCD3005H. This glue, without a binder, offers high adhesive power and it is completely odorless. It significantly reduces emissions of total organic carbon (TOC), VOCs, aldehydes and odor-causing substances from ceramic kiln stacks.
Both SCD3001H and SCD3005H glazes allow for dry grit production on different lines within the same facility without exceeding the limit values of TOC and aldehydes emitted from the kiln stacks.
WATER BASED matt glue SCD3100H: it contains a specifically designed binder to create a matte ceramic effect. This glue can be used in combination with matte grit, providing spreadability, transparency and a low degree of glossiness. It also ensures the absence of glossy dots in areas where the grit does not adhere correctly or glossy haloing at the edges of graphics. Its high adhesive power allows for the application of a large amount of glaze, creating a significant thickness effect.
All of Sicer's WATER BASED glues have longer drying times compared to traditional solvent-based glues, thus offering an eco-friendly alternative without compromising performance.
WATER-BASED INKS: the future for Sicer!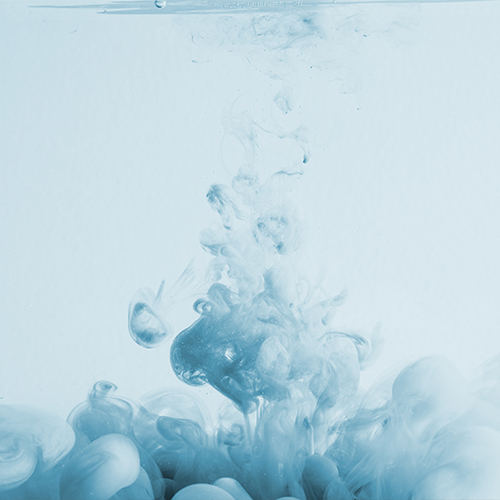 Sicer's "WATER BASED" research doesn't stop at digital glues alone, which are highly appreciated products today, but continues with the aim of offering customers a complete range of water-based inks as well.
Water-based digital products represent the immediate future. With the goal of further improving and reducing harmful emissions into the atmosphere and thanks to close collaboration with plant engineers, a new range of WATER BASED INKS has been developed and will soon be introduced to the market.
Sicer: the perfect combination of innovation and environmental protection
Sicer reaffirms its position at the forefront of the ceramic industry by combining digital technology, sustainability and high performance. Water-based digital inks and glues offer significant ecological advantages by reducing harmful emissions and promoting virtuous practices in the industry. Choosing the eco-friendly solutions developed by Sicer means embracing innovation and contributing to environmental conservation.